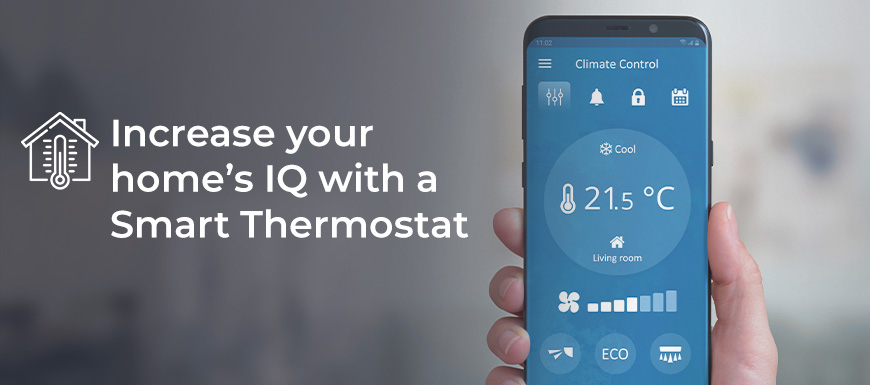 Rising costs for electricity, heat and cooling are making a Smart Thermostat a very 'smart' choice these days. Did you know that between 2008 and 2016 your home hydro bill increased by a whopping 71% in Ontario? And I don't think electricity has gotten any cheaper in the past 6 years. When we look at natural gas prices it is not much better. For customers in the GTA,  Enbridge gas rates have more than doubled in price in the past two years, from 10 cents per cubic metre to 23 cents per cubic metre. This is why, if you're feeling the pinch like many Canadians and want more control over your energy costs, a smart thermostat could be the answer.
So, what exactly makes that thermostat smart? Well, smart thermostats put the user experience first; it is designed to be intuitive and easy to use. Many are touchscreen with large, clear temperature gauges you can read at a glance. That means you might not need those reading glasses anymore to puzzle through a bunch of buttons on confusing menus. Smart thermostats also work with mobile apps so you can set your home's temperature anywhere from your device. When connected to your data plan or your home's Wi-Fi a smart thermostat can work with your Alexa or Google Assistant.
Smart thermostats are wired into your home's HVAC system through the common wire or C wire. If your home doesn't have one, you'll need the C wire installed first. Now you might be thinking, "Argh" I must get a technician do wiring? That's a pain. Let me share 10 reasons why a smart thermostat is worth your time and trouble.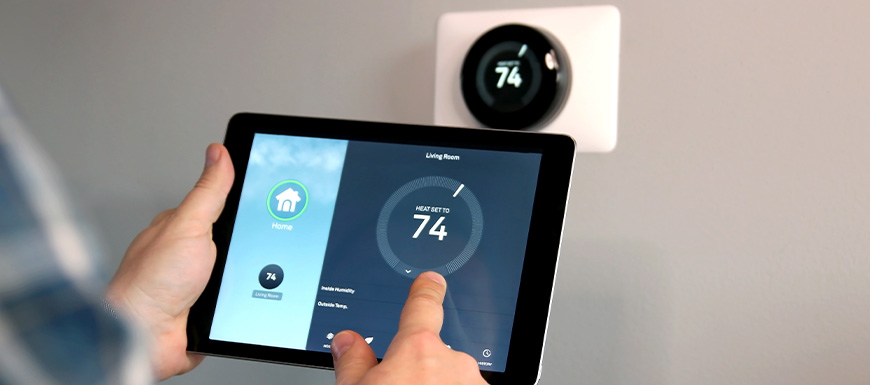 1. Be in control…remotely
With a smart thermostat you can download apps to allow you to control your thermostat anywhere you are connected to data or Wi-Fi. Say you've left for a family vacation and forgot to reset the thermostat. Your AC is pumping cool air into an empty house and you want to change it. Pick up your phone and adjust the temperature as necessary. If you own a second property and rent it out, you can also set up notifications to let you know if the temperature has gone above or below your desired settings.
2. Build your own schedule
Programmable thermostats do this too but it's easier on a smart thermostat. Create your own heating and cooling schedule directly from the app. No buttons, or confusing control panels and with way more flexibility so you can change your schedule week by week, not just season by season.
3. Save money!
Being in remote control and able to set up personalized schedules is going to save you money. A smart thermostat helps you make data driven decisions based on accurate information you can access right through your phone. For example, you can ramp up the AC an hour before you come home from work alleviating the need to have it running all day. Read the manual, follow the energy-saving tips and adjust accordingly.  Depending on where you live and what thermostat you buy, you will save from 10-25% on your annual heating and cooling costs.
4. Take advantage of movement sensors
Many smart thermostats come with the ability to detect when people are home and obviously moving around in the house. This assists you in finetuning a schedule for your family's lifestyle. This means you can lower the heat and AC when people aren't around or are sleeping.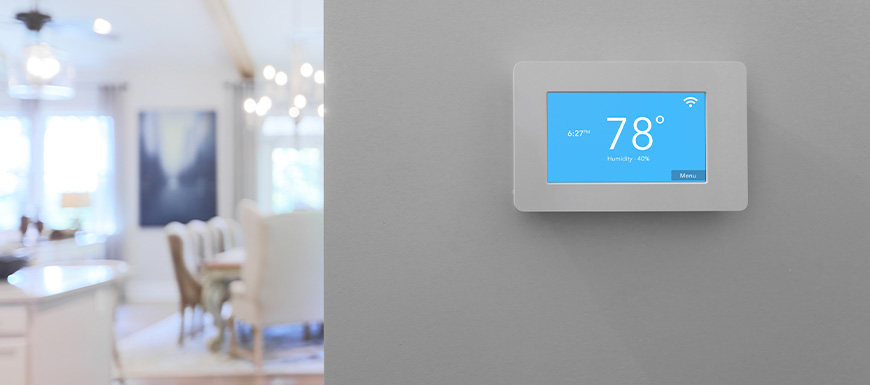 5. They learn along the way
Wait a minute, smart thermostats learn? Its true! For example, the Nest has built-in learning functions. Smart thermostats know when people are active from those motion sensors, then "learn" when heating and cooling needs to be on. The thermostat then adjusts your home's schedule to match the activity. Since most families tend to have some sort of routine or pattern this results in savings.
Another type, the Honeywell Lyric Thermostat can track you through your location data on your phone. As you approach home it will kick on the HVAC system to get the temperature right where you like it.
6. Data, data and more data
What's the point of gathering real-time data if you can't generate a good report? A smart thermostat does just that, tracking your energy use, how it's changed and where you can adjust to save even more money. By creating your home's energy profile, including size, location, and how you heat and cool, a smart thermostat can work with this data to set up automated processes, helping you dial in on your energy consumption.
Many are also compatible with other smart device platforms, linking up and exchanging information with smart humidifiers and air purifiers. Then your smart thermostat can become a one stop shop for control of all things home comfort!
7. Clap on clap off?
Well not exactly, but some smart thermostats are compatible with voice command technology found in Amazon's Alexa. This means you can say "Alexa, turn up the heat by two degrees," and shazam, your wish is your thermostats command.
8. It can track the weather
Since smart thermostats are connected to your phone and other data sources it can monitor the weather and modify your home's temperature to what's happening outside. So, the next time a heat wave makes its early afternoon debut or a cold front moves in after you leave for work, your smart thermostat has you covered.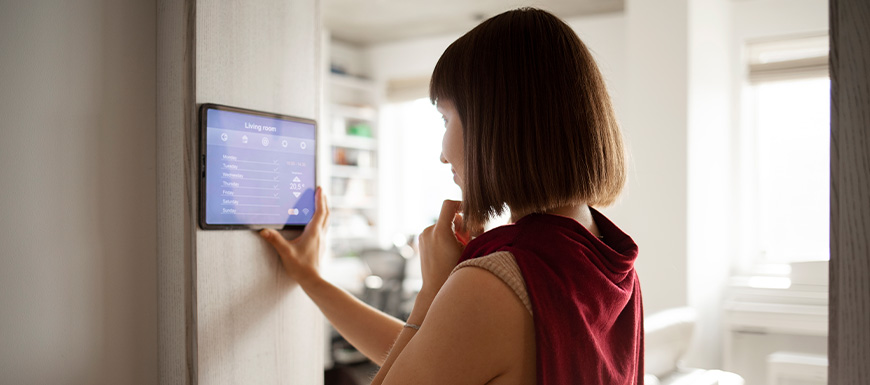 9. Alerts
Ever had your furnace breakdown in the middle of winter…when you're not at home? I have. There's nothing like getting in the door from a weekend away and your house is freezing, never mind if one of your pipes burst. The Nest thermostat will send you a notification if there are interruptions to your power, but important to know, this feature only works with forced air systems.
10. Look for Energy Star and you might get a rebate
Many utility companies want you to use less energy and offer rebates for as much as 50% of the cost of a smart thermostat. The more energy you save, the more sustainable your home is. This makes choosing an ENERGY STAR certified thermostat a smart choice. ENERGY STAR is a trusted international symbol for high energy efficiency. You can learn about the best appliances, windows and HVAC systems to buy. They also have a bunch of energy saving tips that can work with your smart thermostat to get your environmental on.
Tips for using less energy.
In the winter, lower your temperature by just two to three degrees Celsius and throw on a sweater. Your home will still be comfortable and you'll be saving energy and money

Think 17 degrees while sleeping and 20 degrees while awake.

Take advantage of the ENERGY STAR tool to shop, compare and find the best smart thermostat for your home

Eliminate drafts around your windows and doors. This will prevent warm air in the winter and cold air in the summer from escaping your home

Replace those old windows. If you pick ENERGY STAR certified windows you can save up to 45% on your energy bill.

Check your furnace filter and clean or change it regularly. This will improve air flow.

Install and use ceiling fans. During the winter have your fan spin clockwise to pull up cold air. In the summer switch it to counter clockwise to move cold air around the house.

Make sure your ducts and registers are clear of furniture. This will allow your furnace to move air more efficiently throughout your home.

Rely on your blinds and curtains to do more than just block the light. Keep them open in the morning to allow the sunlight in and warm your house, then close them in the afternoon to keep your home's heat from escaping back out. In the summer you want to use them to block the heat from coming in during the afternoon, and in the evening open them up to let cool air circulate.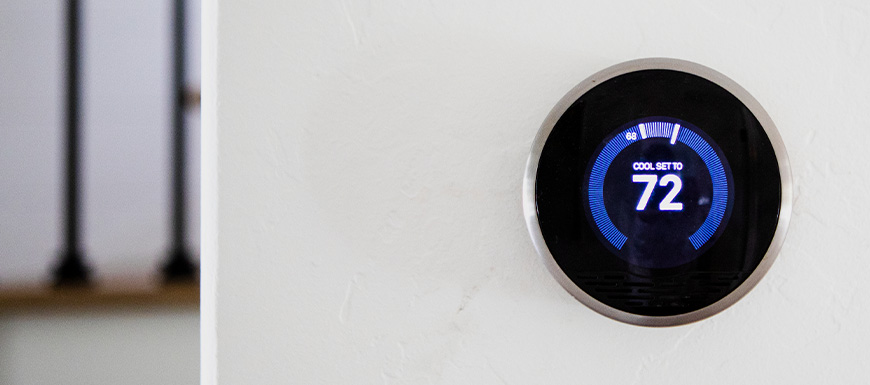 Final considerations before installing a smart thermostat.
1) Be sure your HVAC system and electrical systems are compatible. Many models have an online tool where you can check for this.
2) Be okay with Wi-Fi and a smart device. Many people still have hang ups with smart devices "listening" to their every move, and smart thermostats are recording data and learning about your life. You'll need to have a smartphone, or a tablet or computer to really take advantage of all the features of a smart thermostat.
3) Shop around and do your research. There are new options hitting the market every year. From our research though there are a few models that seem to get the most mentions. These include:
ecobee SmartThermostat

Google Nest Learning Thermostat

Amazon Smart Thermostat

Honeywell Programmable Thermostat
Smart technology is out there for you to take control of your home's temperature and energy bills, to save you money and make your home energy efficient. Speak with a knowledgeable expert from Advance Heating and Cooling to see which thermostat would work best with your system.